Buttons
Read More Buttons
Share Buttons
Login + Logout Buttons
NEW BUTTONS
---
Buttons
Links & Buttons are very important when creating page content. With the Supreme Social WP Theme you'll have a large variety of sizes and unlimited colours at your disposal. Now you can create beautiful buttons on the fly using the Shortcode Builder.
Advanced option have been integrated into the post page text editor, allowing you to instantly generate buttons of any type without having to write the shortcode markup yourself.
Use Supreme Call To Actions to Create Your Marketing Funnels
3 Different Sizes
Large
Normal
Small
Unlimited Custom Color Schemes for Bottom and Text
Don't forget about colors! Most of Supreme Shortcodes can be used with predefined color codes. Or you can also choose your own by using Supreme Color Picker.
Buttons with Font Awesome Icons
Link Target Methods
_self
_blank
_parent
_top
 Customization Options
Flat Outline Read More
Read more are generally used at the end of a block of teaser information (often on the home page). Flat and simple, but oversized to attract visitor attention.
 Customization Options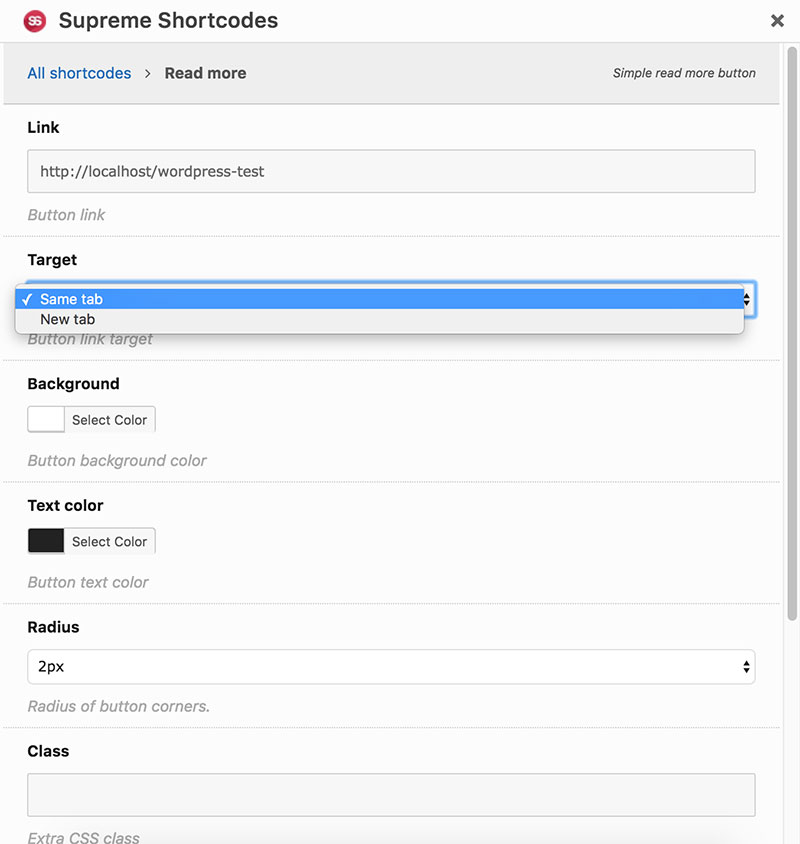 Share Buttons
Allowing your Post/Page to be promoted via the various Social Networks has never been easier. Now you can add Social Media Buttons to your Posts/Peges quickly and easily using the various Social Media Shortcodes like Facebook, Twitter, Google Plus, Pinterest, Linkedin, Tumblr, Digg…
Facebook
 Customization Options
Twitter
 Customization Options
Google Plus
 Customization Options
Linkedin
 Customization Options
Pinterest
Tumblr
 Customization Options
Digg
 Customization Options
Login + Logout Buttons
Log In
 Customization Options